Dear Neighbouring Residents,
Over the next two months Ontario Land Surveyors will be re marking our west property line (blue below). After the property line has been laid out via stakes, we ask that all of your personal items and/or tenant owner items and vehicles be removed from our property as soon as possible and in no event later than Sept 1, 2023.
This fall we will be executing soil clean up in approximate area known as Block 3, area below outlined in red and we will be relocating underground and above ground electrical infrastructure that are partially on the west side of the existing prison wall, work area outlined in green. Therefore, unrestricted access is required to our lands only. Vehicles parked on our lands may be towed, if required, at the vehicle owner's risk and expense.
We thank you for your anticipated cooperation.
If you have any questions please send to info@unionparkkingston.ca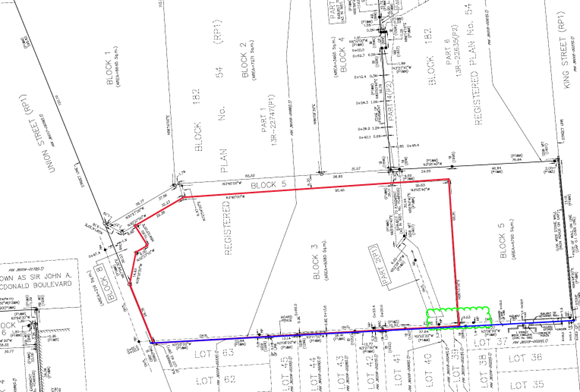 Sincerely,
Siderius Developments Ltd. (Owner of Union Park Kingston)