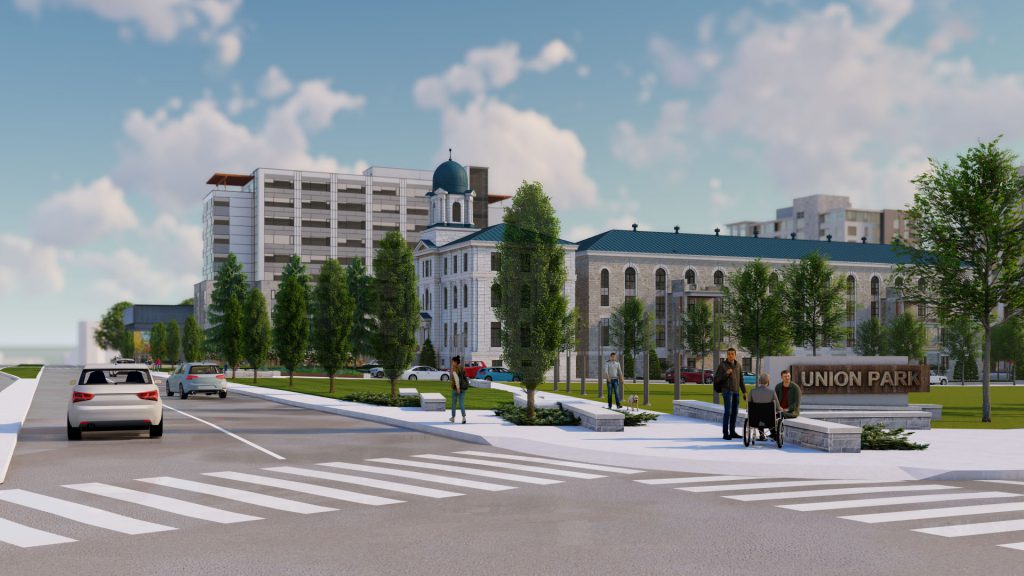 News in brief: Union Park Kingston is a new planned community proposed for 40 Sir John A Macdonald Boulevard, a brownfield site that was the former location of the Prison for Women. This $143 million development, featuring seniors housing, residential condominiums, and a hotel, is currently seeking City of Kingston approval. Today, the Union Park Kingston team has unveiled their plans and renderings to commence the public engagement process.
---
Union Park Kingston, a new planned community proposed by Siderius Developments Ltd., has been unveiled and is being uploaded to the City of Kingston's Development and Services (DASH) Hub.
The proposed development has the potential to establish a cornerstone of the Portsmouth Village community, providing much needed housing, jobs, and neighbourhood commercial and retail services that would enable seniors to age in place and creates live-work-play-age opportunities. The overall vision for Union Park is to create a carefully designed, compact community with a healthy mix of uses, pedestrian-friendly public spaces, and context-sensitive buildings.
Applications to amend the Official Plan and Zoning By-law, along with a Draft Plan of Subdivision have been submitted to the City of Kingston. These multiple applications will require approval by City Council, which will include public engagement. Submission of these applications is only one of the first steps of many to be taken and Union Park looks forward to connecting with the community throughout the process.
The 8.1-acre property is located at 40 Sir John A Macdonald Boulevard. The property is bordered by Union Street to the north, Sir John A. MacDonald Boulevard to the east, King Street to the south and Portsmouth Village and the Harbour to the west. It will neighbour Queen's University's Duncan McArthur Hall and the Correctional Service of Canada Museum. The site was formerly home to the Prison for Women, which opened in 1934 and closed in 2000.
Union Park is situated on the traditional territories of the Anishinaabe, the Haudenosaunee and the Huron-Wendat. These lands are today also home to a diverse community of First Nations, Métis, and Inuit. This acknowledgment is a sign of our recognition of and respect for Indigenous people living in this area.
About the Project
"Union Park Kingston will reimagine this site's potential by creating a vibrant mixed-use neighborhood for the benefit of all existing neighbours in Portsmouth, Kingstonians in general, and the hundreds of people that will live and work at Union Park," said Nate Doornekamp with Siderius Developments. "The former Prison for Women is a significant historic building that is functionally obsolete which has sat on contaminated lands for twenty-one years. We respect the history of this site and intend to develop it in a sensitive and responsible manner. The opportunity exists now to transform this property into a showcase that will enhance and add to our community for many years to come."
Union Park Kingston will rejuvenate a historic and prominent property in Portsmouth Village close to Kingston's downtown, Portsmouth Olympic Harbour, major roadways, and the Queen's University, St. Lawrence College, and hospital campuses to name a few landmarks. This thoughtfully designed proposal will strike the right balance between providing much needed community services while also respecting the history of the site and area.
"We believe that this plan is appropriate for the neighbourhood in terms of scale and proposed mixed uses and will be a positive addition to Portsmouth Village. This proposal would provide the village with much needed housing, small retail and commercial services, parkland, and other benefits," added Doornekamp.
Project Amenities
Across the three planned phases, the development will include:
a seniors housing continuum of care community, 
residential condominium units, 
a hotel, 
a park and connecting pathway between Union Street and King Street, 
a healing garden, 
ground floor commercial space,
a public art wall, and, in the last phase, 
a future mixed-use apartment building.
"Our proposed retirement community offers seniors more than just a place to live – it offers them a place where they can enjoy life," said Steve Strong, Chief Operating Officer for Signature Retirement Living. "We want our residents to feel right at home whether they are renting one of our fully independent apartments with a variety of age in place features or living in our full-service retirement residence with an all-inclusive lifestyle that has been tailored to meet their needs. Our mission is to provide an enviable level of service in a positive, vibrant, and caring environment as beautiful as it is welcoming."  
Strong also adds, "We have enjoyed our experience building and managing our retirement residence in Kingston's west end. It has been well received by the community, and we are excited by this opportunity to address the housing and care needs of seniors in downtown Kingston."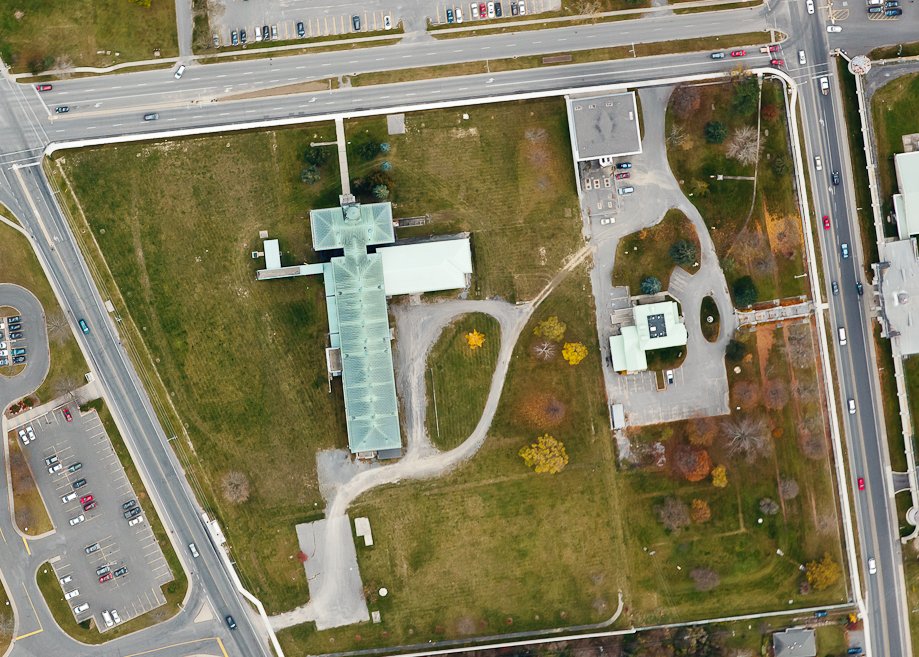 Redevelopment Process and Considerations
The City's review and approval process is anticipated to take a year. During that time, Siderius will continue to engage with neighbouring residents, landowners, and businesses; heritage-minded groups in the Kingston area; the Prison for Women Memorial Collective; and other community groups.
"As the property's current stewards, we continue to listen to those with a lived experience in the Prison for Women to create a healing garden with their assistance and involvement."

Nate Doornekamp
The Union Park Kingston team acknowledges this property has heritage attributes that must be fully considered as part of the development process. To that end, Siderius has retained two well-respected heritage consultants – John Stewart of Commonwealth Historic Resource Management and Barry Padolsky of Barry Padolsky and Associates – to craft a heritage strategy for the property and heritage impact statements for each building.
"This is a unique and special property, and all involved in the Union Park Kingston project are interested in respecting and protecting the heritage and history of the property," said John Stewart. "We are working with Siderius and the City of Kingston to ensure plans meet with the City's heritage goals, the requirements of Ontario's Heritage Act and Parks Canada heritage requirements."
A website, unionparkkingston.ca, and email newsletter has been launched to provide information on Siderius' plans and opportunities to provide community feedback. 
---
About Siderius Developments Ltd.
Siderius Developments Ltd. is a Kingston based partnership between two well recognized heritage developers: ABNA Investments Ltd. and King's Town Development Corporation. This team has worked on some of Kingston and the surrounding area's most beloved and celebrated heritage restoration projects, including the Smith Robinson Building ("S&R Building"), The Woolen Mill, the Queen City Flats, the Gibbard District Riverside Residences, the Royal Artillery Park Barracks, and The Frontenac Club.